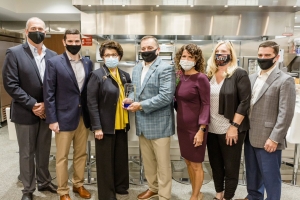 Washington DC Cabinet Official and Small Business Administrator, Jovina Carranza and her delegation visited Windham on October 2, 2020 to present AL Letizio, Jr. with the NH Small Businessperson of the Year Award.  In attendance also was the New Hampshire Deputy Director of the SBA Rachel Roderick and her team.
Small businesses create two out of every three new jobs in the US each year and more then half of all Americans either work for or own a small business.  Carranza advocates for the roughly 31.7 million small businesses in the US, working to ensure that they have they have the resources and support to start, grow, and expand as well as to recover in the event of declared disasters such as the Covid-19 pandemic.
Following a meet and greet, guests were provided with a full tour of the building and the opportunity to try their hands at making fresh mozzarella and taste the finished product as well as a selection of Italian meats and other delicacies.
A.J. Letizio Sales & Marketing is a professional sales and marketing agency serving the food and non-foods/disposable products industry, following a century old family legacy as experts in the food industry hat traces its roots back to the family meat market in Lawrence, MA in 1912.  Founded in 1988 by Al and Patti Letizio, A.J. Letizio's national headquarters is located in Windham, NH, the firm, now in its 33rd year, serves a large portfolio of clients and customers through 17 states in the Eastern US.  Throughout the 2020 pandemic, A.J. Letizio Sales & Marketing  was able to keep their full staff with no cuts in pay or loss of benefits, continuing to pay 100% of their employees' health benefits.  Says Al of his business, "I'm very fortunate to have the best team and business and the support of my family and friends."