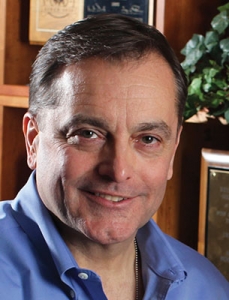 Al Letizio, Jr.
Entrepreneur • Civic Leader • Community Service • Family Man
Al Letizio, Jr. is the co-founder of A.J. Letizio Sales & Marketing, the 4th generation of Letizio family members in an unbroken chain of industry experience dating back to 1912.
Al grew up working n the family markets as a meat cutter, in his father's enterprises as a warehouseman and truck driver at Agar Supply and in manufacturing and production at Genoa Sausage Company. After earning a BS from the University of Massachusetts in 1981, Al entered the food brokerage business and spent 6 years with Try-Angle Foods in Boston before venturing off to co-found A.J. Letizio Sales & Marketing with wife Patti Letizio.
Under his leadership, the company has grown from the founding team of two people to a team of fifty, successfully serving clients, across the Retail and Foodservice/Non-Foods Industries in more than sixteen states.
Al serves currently as the company CEO. Additionally, Al is a board member for the New England Food Foundation, Massachusetts Food Association and previously with the Northeast Fresh Foods Alliance.
Al serves and has served on his town's Board of Selectman, School Board, Economic Development Committee and has served in leadership roles in Boy Scouts of America and numerous other community service organizations.
Al also provides consultative services to the retail and foodservice sectors as an industry expert as well as in various advisory roles in professional, business, governmental organizations.
"The American Dream means giving it your all, trying your hardest, accomplishing something. And then I'd add to that, giving something back. No definition of a successful life can do anything but include serving others."
Thoughts and experiences from my life.
In February 2020, Al Letizio, Jr, was was selected by President Donald J. Trump as one of the twenty-two delegates to represent him at the 2020 republican National Convention.  As a lifelong member of the Republican [...]